The Painsley Catholic Academy was formed in 2012 and expanded in 2018 as it merged with The Holy Trinity Catholic Multi Academy. It is now the largest multi-academy in the Archdiocese of Birmingham and faces an exciting future.
The Painsley Catholic Academy is a company limited by guarantee registered in England and Wales with company number 08146661. Registered office address: Station Road, Cheadle, Staffordshire ST10 1LH www.painsleymac.co.uk.
Click here for The Painsley Catholic Academy Annual Reports and Financial Statements
Click here for information on the Directors of The Painsley Catholic Academy.
The Painsley Catholic Academy Group of Schools
Painsley MAC Mission Statement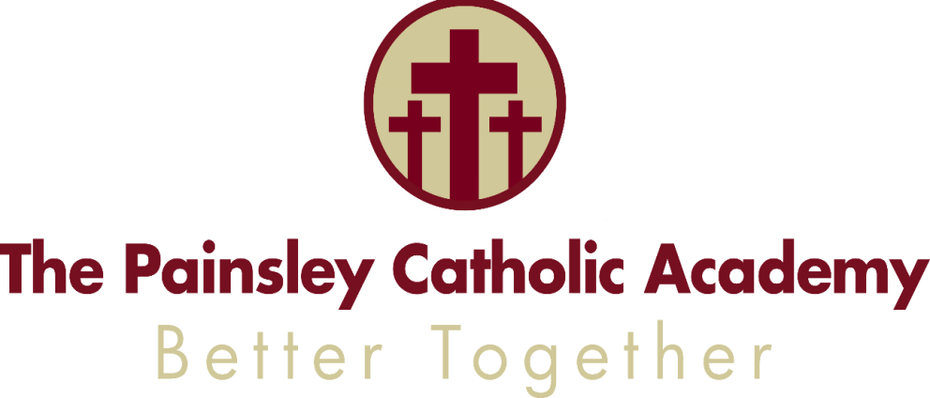 Through our Catholic faith
we grow in the love of God and each other;
we show respect in our words and action;
we serve our communities and the world;
we learn to be the best we can be;
becoming better together as children of God.
How the Academy gained its name
The name "Painsley" was chosen because it had a common link with all the parishes which cover our school community. From Painsley Hall, Draycott, one of the Draycott family houses, came a "Painsley and Draycott Mission", which served the neighbouring areas and from which grew those parishes which are now connected with this academy.
Vision
We share a clear vision of how our schools can operate effectively, ensuring that each and every one of our students achieve their full potential in a caring and disciplined environment. We are committed to providing each of our students with the best education possible.
We believe that all of our students have the right to a safe and enjoyable education in a positive, disciplined and caring environment. This presents every child with a challenge to be the best person they can be, to reach their full academic potential and to realise their dreams. Working together and supporting each other as a close family of schools we believe that we are, and will continue to be,
Better Together
Mission
As a Catholic Academy Gospel Values are at the centre of our family of schools. Our aim is to provide the highest quality of education in order to develop and fulfil the potential of all students in our care, from age 3 to 18.
The faith development of our students is of paramount importance and whilst we strive to live in a faith community, we also ensure opportunity for the development of religious belief and religious literacy to ensure the foundations of faith in all our students.
The Painsley Catholic Academy
The Painsley Catholic Academy is made up of two high schools and thirteen primary schools in total. The Chief Executive Office (CEO) is Mr S Bell, with Mr K Wilson in the role of Chair of Directors and Mrs J Bradbury as the Chief Financial Officer (CFO).
The Painsley Catholic Academy is made up of the Painsley Catholic College and the following primary schools in the North of the Academy with Mrs G Wretham in the position of Deputy CEO:
The Faber - Cotton

St Filumena's - Caverswall

St Giles' - Cheadle

St Joseph's - Uttoxeter

St Mary's - Leek

St Thomas' – Tean
The Painsley Catholic Academy South Schools, with Mrs C Horton in the role of Deputy CEO, consist of Blessed William Howard High School and the following seven primaries:
St John's – Great Haywood

St Patrick's – Stafford

Blessed Mother Teresa's – Stafford

St Austin's – Stafford

St Anne's – Stafford

St Dominic's – Stone

St Mary's - Brewood
You can find out more about each of our schools by following the link to our Painsley MAC website: http://www.painsleymac.co.uk/our-schools/
Benefits of being in a Multi Academy
TThe benefits of being in a Multi Academy for fifteen schools have been identified as helping to:
Secure and preserve the Catholic ethos and character in the schools through ecclesial communion.

Offer quality Catholic education across the primary and secondary phases, which meets the expectations of Catholic parents.

Continue to raise the quality of education through individual schools having accountability for standards but committing to collective responsibility for improving provision in all schools in order to promote achievement and improve pupil performance.

Improve the quality of teaching and learning.

Facilitate the sharing of good practice and successful strategies for improving quality.

Improve the quality and impact of strategic thinking and planning.

Support strategic leadership and management in the schools, including strengthening the effectiveness of the roles of: Principal, Vice Principal and Assistant Principal.

Promote effective collaboration to improve the quality of middle level leadership and management, and subject leadership.

Facilitate joint appointment of staff and shared induction, training and development, and review opportunities.

Support governor training and development opportunities.

Strengthen capacity through providing wider career and vocational opportunities and leadership formation.

Extend the range and broaden the diversity of planned curriculum and extra-curricular opportunities.

Strengthen existing partnerships with other schools and providers, e.g. those with other neighbouring Staffordshire schools and other Catholic schools within the Archdiocese of Birmingham.

Improve the range of response to individual pupils' needs, including those with special educational needs.

Address community cohesion and social inclusion issues particularly improving the performance of potentially higher achieving pupils and those pupils with low aspiration.

Ensure best value in the use of finance and resources.

Ensure effective use of new technologies to enhance teaching and learning.

Improve the sharing and economies of scale regarding resources.

Use the academy as the basis for exploring improved liaison, collaboration and partnership working with any external agencies.